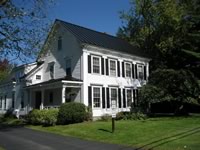 Real Estate Services:
Lake and Denison has an extensive real estate practice representing buyers and sellers in purchase and sale, title searches, closings, and document preparation including 1031 tax deferred exchanges. Lake and Denison is an agent for several title insurance companies and is able to help clients in the complete range of real estate matters.
Estate Planning and Administration/Elder Law:
Lake and Denison offers a full range of estate planning and elder law services: wills, powers of attorney, trusts, estate tax planning, life insurance, probate, and retirement benefit planning. Lake and Denison also assists clients in settling estates including the preparing and filing of estate tax returns. Families often ask us to set up trusts or LLCs for ownership and management of their cottage property to assure its availability for future generations. With ever changing regulations on MaineCare (Medicaid) clients are also concerned about nursing home costs and options for protection of their assets.
Business Law:
Lake and Denison advises small business owners on many aspects of employment law, contracts, financing, mortgage foreclosure services, private lending, residential and commercial leases, sale or purchase. We offer comprehensive services in incorporation, LLC formation, annual reports and stockholder agreements.
Municipal Law:
Lake and Denison advises municipalities in areas of planning and zoning, taxation, ordinance drafting, general personnel and contracting matters, conduct of town meetings, and municipal elections.
Land Use Law:
Formation and management of road associations, appearances before planning boards and zoning boards of appeal, environmental permitting, subdivision and site plan applications, conservation easements, and boundary disputes.